Aston Martin is reportedly in talks with Lucid and the Saudi Arabian government fund about an EV partnership as their relationship with Mercedes/AMG winds down.
It would be very interesting to see Aston Martin design paired with a Lucid powertrain.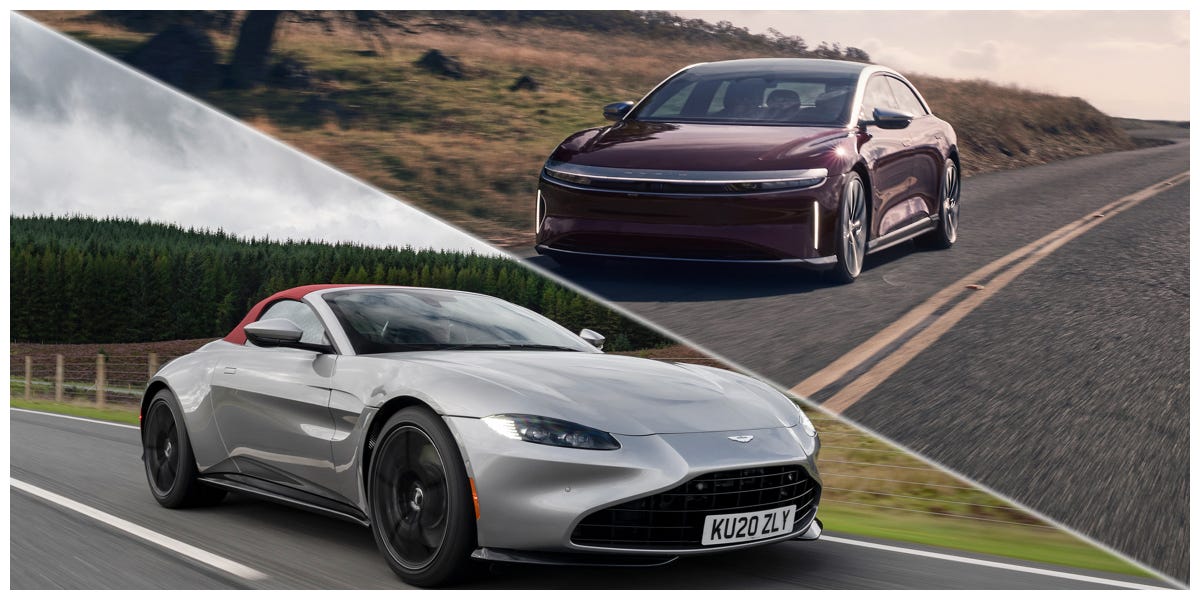 As the old-world British automaker seeks a new partner, the bleeding-edge U.S. EV maker is a top contender.
www.caranddriver.com
Lucid Could Be a Win-Win
So far, though, Stroll has ignored Geely's courtship. Instead, Stroll has started flirting with the Saudi Arabian government fund PIF. The Saudis are in the position to offer fresh money as well as a tech partnership with Lucid Motors, in which they own a 60.5 percent controlling interest. Stroll has also recently started talking again directly to Lucid's Peter Rawlinson and Eric Bach. Why Lucid? Because cooperating with the U.S. EV startup may well lead to a win-win scenario. The original idea conceived in late 2021 was for Lucid to cover vehicles up to $200,000, while Aston would cater to the $225,000-plus clientele including the supercar/hypercar segment. At the same time, the Americans would terminate their own patchy and underfinanced distribution scheme and join forces with the 134 established Aston dealers.
Aston's traditional fortes include lightweight architectures, head-turning design, and industry-leading personalization. The major strengths of Lucid are electrification and digitalization. But as far as bending sheetmetal, putting the pieces together, and turning it into something that drives rather well and lasts, Aston has a clear edge over the startup. So, in an odd way, these two unlikely partners could actually be a good match.
In an ideal world, both brands should benefit from and motivate each other. Imagine the Lucid Air 2.0 spawning an Aston Martin Lagonda, or the Lucid Gravity SUV sharing its genes with the next-gen DBX. Already, Aston allegedly agreed in late January to buy electric motors from Lucid (and, pointedly, not Mercedes). This scenario is still overshadowed, however, by Aston's heavy debt burden and Lucid's rapid cash burn rate, to name only two complicating factors.